What is eText?
Welcome to Pearson eText, where you can access grade-specific resources anytime, anywhere!
Pearson School eText is an easy-to-use database of content available to you anytime and anywhere that you have internet access. Students and teachers log in using unique information to access all of their content.
Projectable Student Book for classroom use
Search functionality within the eText
Interactive Glossary
Image Bank of student text images, maps, and charts
Line Masters and Assessment Masters in editable Word files
Access to websites through hotspots or links on the page
Ability to create study notes right on the page
Ability to use a highlighter to underscore key points in the text
Ability to share notes and highlights
Ability to bookmark pages, and save bookmarks
Back to top
New Features
Pearson eText App:
Click to zoom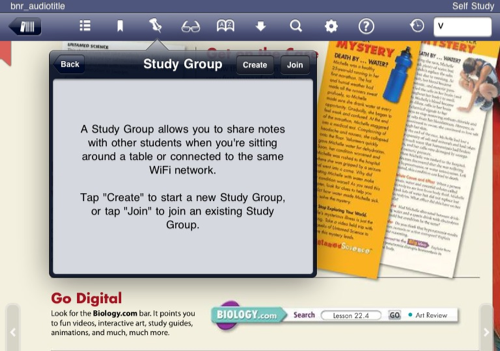 Note: Requires iPad iOS4.2 or newer and a valid Pearson eText username and password. Some titles are not yet currently available.

The Pearson eText app is a great companion to Pearson's eText browser-based book reader. It allows existing subscribers who view their Pearson eText titles on a Mac or PC to additionally access their titles in a bookshelf on the iPad either online or via download. With the eText app, book content is displayed with the highest quality fidelity to the print and online versions of the textbook. The app provides students and instructors with many of the same features available to browser-based eText subscribers. The eText app provides full-text search capabilities, highlights, notes, bookmarks, support for multimedia content, glossaries, ability to create study groups and many other exciting features!
Features *
Sign in via Pearson Username and Password
Bookshelf shows the user's licensed titles (online and download)
Fidelity to the original textbook display
Single page (portrait/landscape) and dual page (landscape)
Go To Page, Zoom, Next / Prev page navigation
Notes, highlights, bookmarks on or offline with automatic synchronization
Personalized notes, highlights, bookmarks for online titles
Synchronize your iPad textbook personalizations with the browser-based version
Online text Search and Search History within a title
Table of Contents
Online Glossary
Create Study Groups to share notes with friends via the iPad's BlueTooth connection or in the same WiFi Hotspot
Notes Manager
Added support for the synchronized display of highlights when an audio soundtrack of the content is playing (not available in all titles)
Help
Hotspot links to web-based media
Interoperability with the same title on a Mac or Windows
*Not all titles support all these features.
Back to top