The Literacy in Action difference:
Everything you need, all in one place



Differentiated instruction on every page



Cross-curricular connections that save time



Purposeful reading that improves writing




For component descriptions and pricing, please visit the online catalogue. Or, download the order forms.


Also available: links to Literacy in Action 7 and 8 Catholic Perspectives.

Strategy Correlations and Reading Levels


Note 1: If you are having trouble downloading the documents, please update your Acrobat Reader.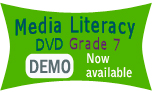 Find out more about our Orientation Sessions